LOGIMONDE OPENS A VANCOUVER OFFICE
Why is 2012 the year for Logimonde to take these big steps in Vancouver?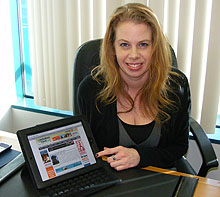 Amanda Stutt, editor, HelloWestTravel.com

A major focus for Logimonde inc. in 2012 is to increase the visibility of HelloWestTravel.com in Western Canada. Wasting no time, we have finished off 2011 by hiring a new Vancouver-based editor for HelloWestTravel.com and opening an established office space in the downtown core.
President of Logimonde Inc. Uguette Chiasson is pleased to welcome Amanda Stutt to the position of editor for HelloWestTravel.com as Amanda enthusiastically accepts the responsibilities to build relationships and increase the presence of the only daily online travel-trade publication dedicated solely to Western Canadian industry players. This is the first time an editor has been appointed for HelloWestTravel.com rather than a journalist, as she takes on full responsibility of the Vancouver office and the e-magazine.
Stutt is an award-winning journalist, and has freelanced for HelloWestTravel.com for more than a year. She has also worked with The Globe and Mail, CBC.ca, The Vancouver Sun and the Ottawa Business Journal.
An editor with experience
Terrilyn Kunopaski, editor in chief, Amanda Stutt, editor and Uguette Chiasson, publisher at the new HelloWestTravel.com office
"What I like about Amanda is that she has experience business writing," Chiasson said. "This is good for us because she understands that our magazines are not 'destination' - we report on the business of the travel industry and I know she will do this well."
"I am familiar with the travel industry through my experience with HelloWestTravel.com in the past but I have not yet had the chance to do more in-depth reporting and really get to know the tricks of the trade," Amanda said. "I always enjoy the events and know how enthusiastic people in the travel industry are. I am looking forward to building on existing business relationships and expanding HelloWestTravel.com's readership."
Logimonde launched HelloWestTravel.com in 2007, the newest of its online travel trade publications. ExpressVoyage.ca, a Quebec-based French e-magazine, was launched in 1999 and followed by TRAVELHotNews.com in 2004, which provides a national overview of the Canadian travel industry.
Achieving our mission
Logimonde inc., which celebrates its 20th anniversary this year, has been looking to increase its presence in Western Canada. Over the years, HelloWestTravel.com has gained popularity, adding more subscribers and advertisers for the site. The industry knows of the magazine from its continual presence at industry events and its thorough coverage of industry issues. Based on this success, the company has decided to take the next logical step: to hire a full-time editor and open a Vancouver office.
The new office building for HelloWestTravel.com
After searching for a long time, it was not easy to find an office space in Vancouver, but from our experience with the Toronto location, we know it is important to be situated in a downtown area, easily accessible to clients, tourism delegates and other industry representatives for interviews and meetings. The Viva Tower has conference rooms, lounges and different amenities where we look forward to welcoming guests. We also plan on hosting a launch party to show off the space. Logimonde has big plans in Western Canada for the coming year, so the travel industry will see many surprises coming their way.
It is a major step for Logimonde, as we are now the only online travel trade magazine to have three offices open across the country (Montreal, Toronto and now Vancouver).
As HelloWestTravel.com serves Alberta, Saskatchewan and Manitoba in addition to British Columbia, we also have freelancers based in cities throughout the other Western provinces to give a well-rounded perspective of the industry happenings on this side of the country.
Amanda is looking forward to an exciting year working with all our industry partners and entering into new relationships.
Everyone is welcome to stop by the office to have a coffee with Amanda, to discuss industry happenings. Story ideas and press releases can be sent to newsroom@hellowesttravel.com